The Business of Cannabis: A Growing Industry
The Business of Cannabis was the subject of a Chamber Business Breakfast on Thursday, January 30, which featured presentations by Michelle Seagull, Commissioner, CT Department of Consumer Protections and Kay Doyle, Esq., Commissioner, Cannabis Control Commission of Massachusetts. The Commissioners were able to offer a broad view of the industry gained through governmental oversight. Massachusetts enacted recreational marijuana regulations in 2018, and Doyle brought the lessons learned from this budding industry.
Regarding Connecticut, Commissioner Seagull described the history, regulations, and program structure of the state's Medical Marijuana Program (MMP). Currently, sales of marijuana in CT are strictly limited to patients with a prescription issued by a physician or APRN through a licensed dispensary. Since its launch in 2014, the MMP has grown to serve 40,035 patients through 1,213 prescribing providers.
There are currently 18 licensed dispensaries in the state, a number that will not expand until those currently licensed are fully opened and community needs are assessed. Herbology, who sponsored the morning's event, is one of the recently licensed MMP dispensaries that will be opening its Groton location in the spring.
---
Herbology participates in the Business of Cannabis Mini-Expo.
---
Connecticut's MMP follows strict regulations. "From the very beginning we treated this product as medicine, as something that should be treated like a controlled substance…we've really tried to stay true to that pharmaceutical model with our program," said Seagull. Marijuana dispensed in the state is pharmaceutical grade, laboratory tested, and labeled with active ingredients in tamper resistant packaging. Producers in the state are regulated as pharmaceutical manufacturers.
Commissioner Doyle noted during her presentation the importance of testing cannabis products based on one if its attributes as a plant. "Cannabis is a hyper accumulator, it's a sponge. It soaks up contaminates like there's no tomorrow." Recounting her time in the public health department, she described the first products submitted to be tested as having "incredibly high levels of lead…cadmium, mercury and arsenic."
---
Michelle Seagull, Commissioner, CT Department of Consumer Protections
---
Hemp products fall under the CT Department of Consumer Protection, which regulates all food and drug manufacturing in the state; the Department of Agriculture regulates the growing of hemp. With no federal regulation of hemp products, Seagull said consumers need to know the regulatory standards where a product is grown and processed.
"Under the law in Connecticut, health claims are not allowed for hemp products," said Seagull. "If the hemp gets grown in Connecticut and is manufactured in Connecticut, we have some pretty strict standards, but there's going to be a lot of stuff on store shelves that was grown and manufactured elsewhere, whether its in another state or even in a different country, and that's a bit of a Wild West as to what that is."
Massachusetts Commissioner Kay Doyle began her presentation by praising the research component of Connecticut's program, calling it possibly the best in the country. Because the medical marijuana programs in the two states are largely parallel, Doyle's presentation focused on the lessons learned through the legalization of recreational marijuana.
The recreational marijuana industry in MA began with a ballot question approving the legalization in 2016, leading to regulations drafted by the newly formed commission. An overview of the licenses issued demonstrates the breadth of the business opportunities created.
Cultivation, including quantities, are carefully regulated following lessons learned from Oregon, where an invitation to bring illicit growers into the system created a glut of products unable to be sold across state lines. Cultivators can farm, process, package and transfer marijuana to form a micro business, or they can work with a licensed marijuana product manufacturer. Sales to the public are limited to licensed retailers, delivery operators, and soon, social consumption locations.
---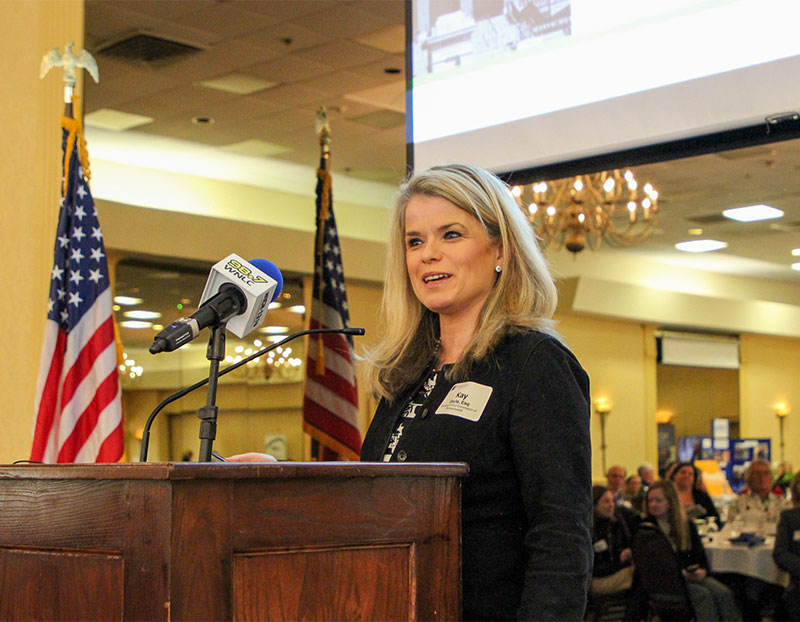 Kay Doyle, ESQ. Commissioner, Cannabis Control Commission of Massachusetts
---
Opportunities for independent testing laboratories are expanding, with only two in MA currently and others in the licensing pipeline. A current challenge is establishing a standards testing laboratory to audit independent labs. Labs equipped to take on this role are reluctant as most receive federal funding and are leery working with marijuana.
Capital is a primary challenge for this industry that cannot be financed through traditional channels, so it relies on private equity. This limits opportunity for entrepreneurs to engage in this growing industry.
The MA commission instituted a social equity program, Economic Empowerment Priority, for areas disproportionately impacted by the War on Drugs. The program offers eligible participants training in small business skills like accounting and assistance navigating taxes, as federal law prevents typical small business deductions in this industry, as well as expedited license review. These applicants are still a minority of the licenses submitted, representing only 24 of the 699 applications.
Regulations in MA branch into a number of areas including marketing, advertising, local control including zoning, and operational requirements. Operations have strict guidelines on sanitation, tracking, labeling, packaging, training, security, transportation, and even energy efficiency.
While proposals for legalizing marijuana have not made it out of committee in the legislature, audience members were interested in exploring what it would mean for Connecticut. Questions covered health and addiction issues, tax revenue, environmental impact, and social equity.
Doyle recommended giving commissioners sufficient time—more than the few months they had—to develop comprehensive regulations as well as a fully formed public information program before launching a recreational marijuana program. She offered to share information from MA through opendata.mass-cannabis-control.com and suggested reaching out to other states to benefit from the lessons they have learned.
---
Read more about The Business of Cannabis:
The Day. "Massachusetts cannabis commissioner gives legalization lessons for Connecticut."
The Bulletin. "Mass. official: More to legal marijuana than writing a law."
CT Examiner. "Business Leaders, Massachusetts and State Regulators, Discuss Legalization of Marijuana."
Presentation by Kay Doyle, Esq., Commissioner, Cannabis Control Commission of Massachusetts. "Legalization of Marijuana in Massachusetts: Update 2020"
Presentation by Michelle Seagull, Commissioner, CT Department of Consumer Protections. "Medical Marijuana Program."