Michael Rauh receives 70th Citizen of the Year Award
This past Friday, the Chamber of Commerce of Eastern Connecticut honored Michael Rauh, President and CEO of Chelsea Groton Bank, as our 70th Citizen of the Year. Rauh was joined by family, friends, local community members and State representatives, such as Senator Richard Blumenthal, as his many years of community engagement were celebrated at Mohegan Sun.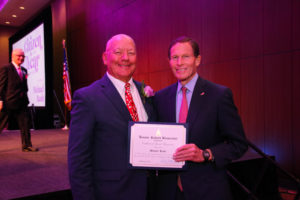 For the past 11 years, Rauh has been responsible for the strategic, operational, and fiscal leadership of Chelsea Groton Bank. In part, organization has been recently recognized as the "Best Bank" in the community by readers of The New London Day, a Top Connecticut Workplace by the Hartford Courant, and carries a 5-Star "Superior" rating for financial strength by Bauer Financial.
Did you miss the event? Take a look at a few highlights from the night! 
Upon his acceptance, Rauh delivered a heartwarming speech to an audience of his peers:
---
"I've obviously had a lot of time to think about this speech-about a year and a half to be exact. Tonight is my chance to say "thanks" to all of the people that have helped me become the person that I am. I still have a lot to learn and a long way to go but I am enjoying the journey.

But there aren't many times in one's life where you have control of the microphone and several hundred important and influential people sitting listening. One of my childhood heroes was a guy named Bobby Kennedy who said "Some men see things as they are and ask why. I see things as they could be and ask why not?" His contemporary, Martin Luther King Jr. said "Our lives begin to end the day we become silent about things that matter."

You know I made a joke earlier about lawyers, but the truth is they aren't all bad. My grandfather spent his life as an attorney defending people whose civil rights had been denied. He represented mine workers, auto workers, farm workers, railroad porters, interred Japanese Americans, black listed Hollywood writers and many more. He was on the front lines of the civil rights movement of the 50's and 60's and deeply involved in some monumental legislation at that time. As a kid, he told me once that his generation had made racism illegal under the law, but that it was up to my generation to eliminate racism in reality.

I've thought about that a lot over these last 18 months. There are so many ways we can make ourselves better. The people in this room tonight have the power to make change. We also have the responsibility of our generation. This is a small community. Everybody we need to make a difference is right here right now. We can change systems. We can change institutions. We can change ourselves. We can be an example that lights the way for others. We need to find a way to embrace our differences and simultaneously find our common ground. It doesn't matter where your parents came from, or what kind of food you like to eat, or who you sleep with or what you call yourself. The only thing holding us back is us.
In the immortal words of the great philosopher Yoda, "There is no try, only do or do not". Let's all work together to do.

Thanks again for this great honor. I am truly thankful for your recognition."