Shop Local in Eastern CT This Holiday Season
Shop Local
As issues with supply chain management and resources become greater this holiday season, there is no greater time to look towards your local shop windows. When deciding where to spend, consider visiting a local, independently owned business. By shopping local, your dollars make a greater impact in our community. Below are a few spots to take a look at for the holidays!
---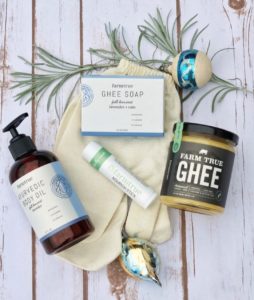 FarmTrue
Consider FarmTrue this gift giving season, an organic certified company that manufactures ghee, ghee based food and body care products. They also offer virtual educational and community events.
No Other Book Like This
Founded by a former librarian, No Other Book Like This is a local book seller and appraiser in Groton whose store boasts affordable rare and first edition texts for the collector in your life. Store hours are listed as Monday through Saturday from 10 a.m. to 6 p.m.
Mystic Luxury Cinemas
Buy tickets at the new luxury cinemas! The space holds maximum-sized screens, in perfect surround sound, with great sight lines in premium lounger chairs. The theater is conveniently located in Olde Mistick Village, home to 60 shops and restaurants. They also serve beer and wine from breweries and vineyards local to the area.
Mallove's Jewelers
Mallove's Jewelers has remained Southeastern Connecticut's most respected jeweler for over 100 years. Let Mallove's help celebrate your special moments with their large selection of engagement rings, wedding bands, and GIA certified diamonds jewelry.
---
Creative Retail
The Eastern CT region is the home to a thriving arts and culture community. With countless museums and cultural centers local to the area, you're bound to find the perfect holiday gift for someone special in your life. Browse some of our arts, culture, and entertainment members. 
Mystic Knotwork
Mystic Knotwork serves over 100 gift shops on the Gulf and Atlantic Coastlines. This local artisan company uses classic sailor knot techniques passed down generationally to create nautical accessories and items. View some of their holiday themed home décor available online!
Florence Griswold Museum
The Florence Griswold Museum provides a robust in-store and online shopping experience, with plenty of seasonal gift ideas. They carry everything from art prints to bath and body products to children's games and puzzles at the museum store. In-person holiday shopping hours are Tuesday-Sunday, from 10 a.m. to 4 p.m.
Mystic Seaport Museum
Bring home a piece of the nation's leading maritime museum. The Mystic Seaport Museum offers plenty of shoreline keepsakes for the whole family; ship models, deck prisms, apparel, children's toys, jewelry, and more. The store's hours of operation are currently Thursday – Sunday, 10 a.m.- 4:45 p.m.
---
Interested in learning more about businesses in your area? Visit our member directory of 1,400 and counting!