Staff Member of the Year: Joseph Zuzel
Each year, the Chamber of Commerce of Eastern Connecticut presents the Eastern Connecticut Social Service Awards, recognizing agency staff and volunteers who have gone above and beyond in their duties, as nominated by industry peers. At the 12th Annual Social Service Recognition Breakfast, we honored Joseph Zuzel as the Staff Member of the Year.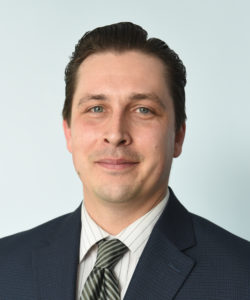 "The opportunity to do something good for individuals in the community is great motivation…It is the support we receive both inside and outside of our organization that motivates me to go beyond my role.  Knowing that there are people who believe in your ideas and mission, and are willing to help get these resources to the people who need them, makes you want to continue to do more."
Originally from Amston, (Hebron) Connecticut, Zuzel graduated from Fordham University in 2002 and later received a master's degree in Special Education and Teaching in 2015. He now works in the role of Community Health Manager for Hartford Healthcare.
The role of a community health manager has shifted drastically in response to the global pandemic. "For all the difficulty the past year has presented, it has enabled us as social service and healthcare organizations to sharpen and learn skills…to rise up to meet the challenges," Zuzel says. "The role of community health in someone's overall well-being is becoming more and more apparent. The past year despite all of its challenges has really shone a light on the benefit of productive and supportive partnerships between organizations that serve our communities."
When asked about the importance of social service, Zuzel explains how individuals can often be passed from one service to another without there being any real change. "Social service is important because it provides a way for us to work together as agencies in the community and pool resources, time, expertise and support, to wrap around individuals and families."
Looking towards the future, Zuzel is heavily involved in the areas of Diversity, Equity, Inclusion and Belonging. He is excited to take on the challenge of engaging the community in new and more impactful ways.
"We need to work to support and empower community members from our diverse and underserved populations to instill a trust in the health care system and community resources. We need to be culturally relevant and accessible in our services, education, and communication."
---
Interested in upcoming networking opportunities? Visit our Events page to stay up to date.