Local Gift Ideas from the Holiday Shopping Trail
The Holiday Shopping Trail has TOO MANY great stores, restaurants, and activities to list here! Still, we thought we'd offer some gift ideas as you finish up your holiday shopping by visiting these local businesses online or in person.
Don't forget you can enter to win–$100, $250, or $500 to shop local plus other prizes!
Holiday Shopping Trail: Links and Special Offers
Outdoor Enthusiasts
Wild Birds Unlimited, Niantic & Old Saybrook: Everything for feathered friends and their fans, specials by location.
Fleming's Feed, Preston & Stonington: Home, garden, pets, and birds. Sales flyer each week.
Book Lovers and Creators
Bank Square Books, Mystic: Ready to help you with recommendations and selection.
The Day, New London: Regional history in beautiful books.
Above All Else, Success in Life and Business: Three award-wining books and a special offer.
Shoreline Sewing Machine Company, Old Saybrook: Machines and classes for those who love to sew or want to learn.
Delicious Treats and Comforting Foods
Capizzano Olive Oil & Vinegars, Pawcatuck: For the best olive oils and tasty vinegars.
Holmberg Orchards & Winery, Gales Ferry: Wines, ciders, and specialty items to enjoy and share.
Mystic Cheese, Groton: Artisanal cheese, grilled cheese and catering. Order online of curbside pick up.
Willimantic Food Co-op, Willimantic: Fill a basket with specialty times–grocery, produce, dairy, grains, spices and more.
Zest Coffee Bar, Ledyard & Zest Fresh Pastry, Stonington: Baked goodies sure to please!
Things to Do
Essex Indoor Golf Center, Essex: Swing away winter blues and get ready for spring. Gift certificates.
Mystified Escape Rooms, Mystic: Private games onsite or scavenger hunts for adults and families, and the coolest jigsaw puzzles.
Mystic Luxury Cinema, Mystic: Private theater rentals, gift cards with special offer, and concessions to go!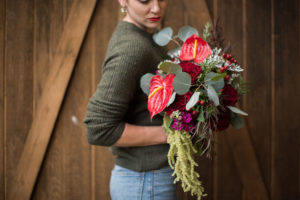 Flowers Say It All
Montville Florist, Montville
L&J Blooms Florist & Gifts, East Haddam
Travel the trail online to discover all the ways to shop local this year. Click, share, and shop to enter to win great prizes! Hurry, entry ends on December 24, 2020.